Safer Travel Advice 30/05/2020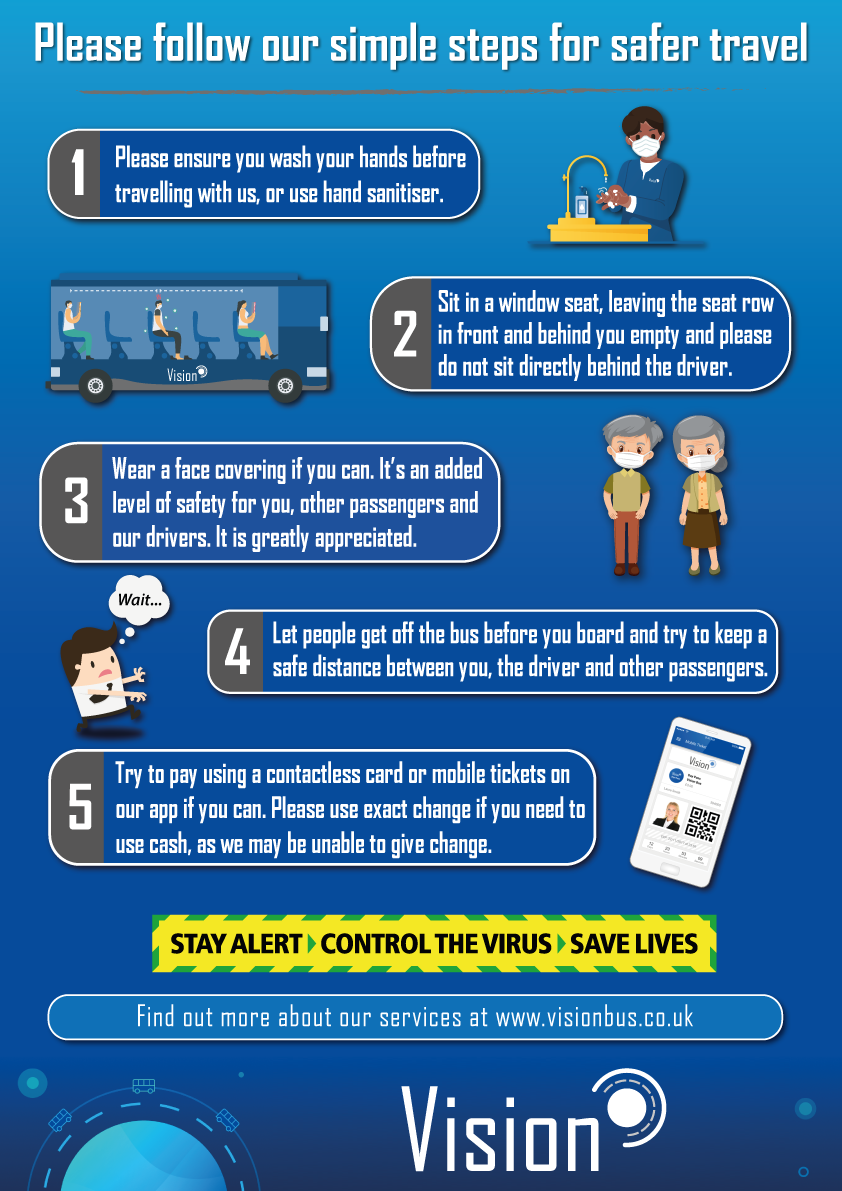 Please check our simple steps to safer travel, below is also some simple advice to make this easier:
Before you travel:
Make sure you allow plenty of time for your journey and try to travel during off-peak times, where possible


Make sure you check for our latest timetables before travelling as they have changed


Please always consider whether your journey is necessary
Social distancing at bus stops and stations:
 
Due to the requirement of social distancing, our buses will have limited capacity at this time. If your required bus has a BUS FULL sign please be prepared to wait for the next bus as we may be unable to stop.


Please be kind and look out for other passengers who might need to travel more urgently than you.


Look out for and follow any information displays at your bus stop which offer guidance of how to travel safely.


At bus stops and stations, please try to keep 2 metres away from anyone else queuing


It is important that you let people get off the bus before you board and try to keep a safe distance between you, the driver and other passengers
Social distancing onboard the bus: 


Sit in a window seat, leaving the seat row in front and behind you empty and please do not sit directly behind the driver.


Only one person can sit in a double seat, unless you're with a member of your household.


Standing onboard is not permitted at this time


Once you're onboard open a window if you can, to help with ventilation


Wear a face covering if you can. It's an added level of safety for you, other passengers and our drivers. It is greatly appreciated.


When alighting the bus please stay seated, ring the bell and take everything with you.


Paying for your journey:


Try to pay using a contactless card, travelcard or mobile ticket on our app if you can


If you can only use cash, please have the exact fare as we may not be able to give change